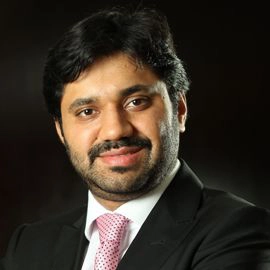 Mr. Nitin Anand was born on 23rd July 1980 in India. He earned a post-graduate degree in Business Administration from National American University.
He is currently the Executive Director and Board Member of Skyline University College (SUC) and other companies within the Group. He has been involved with SUC since he graduated. He has provided his expertise and utmost dedication for the smooth operations of the organization for the last 16 years and successfully contributed to the implementation of key strategies for the growth and success of SUC.
For these, at a very young age, he has gained massive respect and is renowned not only from the higher and school level education sectors but also to the business world here and abroad. Similarly, he has also been involved in Real Estate ventures locally and internationally.
He is also involved in Skyline Group; as a Group Director, which operates in various education, real estate, consultancy and industry activities in the Middle East, India, Africa, the US and Canada. He has been instrumental in the diversification of the group into the manufacturing industry and F & B sector, and now expanding its group interest in education in Asia and Africa, specifically in Nigeria, Ghana, Tanzania and Rwanda, as well as in various real estate projects in US & Canada. The group under his directives has initiated projects in various countries and in different areas.
The Group is currently expanding its operations in African regions. Its first university project in Nigeria, Skyline University Nigeria (SUN); is the first Private University in the state of Kano. It obtained full university status from the National Universities Commission (NUC) Nigeria on 10th May 2018 and started its official operations on 19th July 2018, with our first batch commencing on 8th October 2018 for Academic Year 2018 – 2019. Since then, the university has achieved many great feats and successes.
The following are the Group's future projects in Nigeria as per the 5-year strategic plan:
Education sector: School in Abuja with international curriculum.
Hospitality sector: The group has already acquired land for a 5-star hotel and wellness resort in various parts of Nigeria.
F & B sector: The group is already focusing on bringing international F & B chains, as well as setting up their own brand in high-end restaurants.
Health care sector: In the later part of its 5-year strategic plan, the group intends to open a state-of-the-art hospital, as well as chains of operations that will be linked to the medical school at the university.
He is a member of various social and business clubs in UAE such as the Entrepreneurs Organization (EO), India Business Leaders Forum (IBLF), Business Leaders Forum (BLF), Indian Business & Professional Council (IBPC) Dubai, India Club UAE, The Indus Entrepreneurs (TIE) Dubai, and other major business councils in UAE.
Skyline Groups:
Skyline University College, Sharjah, UAE
Bell Pepper Consultants, Dubai, UAE
Delhi Developers & Real Estate, Dubai, UAE
Blend Polymer Industries, SAIF Zone, UAE
Skyline International Group Limited
Skyline Group of Companies Ltd., Nigeria
Skyline University, Nigeria
Skyline International Tourism & Hospitality Ltd., Nigeria
Skyline General Trading and Consultancy Ltd., Nigeria
Skyline Agro-Allied Services Ltd., Nigeria
To mention a few major awards & recognitions received:
UAE Awards:
Gen Next Indian 2014 Award – For the outstanding Values, Dedication and Commitment to Excellence from Xponent Media.
Education Researcher Award by Alleem Achievers Award, 15th December 2016.