Introduction
A new phase in the COVID-19 pandemic has arrived. It is a period for trust yet additionally for alert. The finish of the lockdown won't spell a re-visitation of the old "normal", nor will it be widespread. The initial will take various shapes, with various nations, various locales, and diverse business areas opening up in various manners and at contrasting paces. The infection actually hides and the capacity to contain its spread will direct what occurs straightaway; any resurgence will probably achieve recharged limitations. Large-scale testing and following, the expansive accessibility of covers, and adequate escalated care limit in medical clinics will decide the pace of recovery. By what method can organizations explore this troublesome climate, particularly in the following barely any weeks, as the limitations are released? Their energy to restart and reconstruct is justifiably huge, yet so are the issues that a re-visitation of business raises. What is the financial health—and state of mind—of suppliers and consumers? How can employees be motivated to return to work and reassured about their safety? How quickly will demand return? What will health and safety stipulations mean for the organization of operations and supply chain?
Ten key stratagems for restarting MSMEs 
Companies will need to take a holistic approach to restarting. This short paper is based on the secondary sources of information collected from news media – conversations and interview given by CEO and Chairman of large European and Asian companies from all sectors, who provided a broad view of their issues and concerns about the end of lockdown.
1. Creating a detailed re-launch map – The emergency has broken huge numbers of the presumptions and devices that business chiefs depend on for dynamic, however for the restart, they should characterize a strong structure for activity in a profoundly unpredictable climate. The best approach is to develop a detailed re-launch map—country by country, site by site, segment by segment, customer by customer, and product by product—in order to prioritize recovery opportunities. This guide will manage creation, flexibly chain, and advertising and deals endeavors, and help decide a recuperation timetable for each site.
2. Government's economic responses to COVID-19 pandemic – have incorporated a variety of measures to help individuals and organizations endure the hardship. MSMEs are in a particularly troublesome position. Plunging request has constrained them to lay off laborers, and many don't have the monetary assets to get by in this atmosphere. In numerous nations, up to 33% of MSMEs could become penniless inside a quarter of a year of when the pandemic started in their nations. MSMEs represent 66% of worldwide business and half of worldwide GDP. An inability to secure them could put the whole worldwide economy in danger.
3. Reshape customer experiences for the new normal – A change that won't just be impermanent for a pretty much long period of restart, yet that will likely be authoritative. Presently it's an ideal opportunity to reshape your customer experience, designing fast new products and services to be distributed through every channel, with communication plans coherent with these times. Answer aptitude and information in the plan of advanced encounters will uphold clients to comprehend and plan the new needs, issues and openings brought up in this absolutely new setting.
4. Providing customers with safety guarantees that restore trust
In Asia, this has prompted the presentation of new practices, for example, temperature controls at the passage of stores, the arrangement of hydro alcoholic gel in retail outlets and on open vehicle, the summed up utilization of contactless strategies for both installment and conveyance. In the Middle East, the aircraft Emirates has presented thermal screening of all travelers getting onto its trips in Dubai and is requesting that they wear face covers ready. The carrier means to send similar measures on a more extensive scale.
5. Safeguarding the health of employees – Many employees are anxious to re-visitation of work, yet many are additionally stressed over having the option to do so securely. Organizations should both console workers about security and discover approaches to spur them in a post-lockdown world. Two simultaneous actions will be needed like-
Ensure employee safety in the workplace
Extend protection measures to employees outside the office, as has been done by multinationals in Southeast Asia and China. For example, provide employees with safety equipment (hydro alcoholic gel, masks, and gloves) for personal use.
6. Phases of resilient business from the COVID-19 crisis – Now is an ideal opportunity to turn your consideration toward Recover, to guarantee your business is prepared to Thrive. We accept that business systems in the recuperation stage will be best coordinated through three basic activities: reflect, restart, and revive. These activities can assist organizations with spanning the emergency reaction to an effective future, by establishing the framework to flourish in the fallout of the crisis.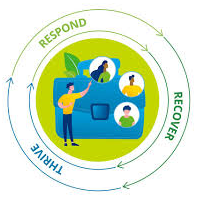 7. Understand Investment Trade-offs – Lastly, understand risks of capital debt versus reinvestment. We suggest organizations apply for minimal effort credits on the off chance that they are strapped for cash. The assets, for instance, can be utilized to buy new equipment for a line that will set you up for accomplishment later on. In this way, so, it may be better to get the loan rather than fighting the good fight only to see moderate equipment gainfulness and confining development openings.
8. The plan of action for returning to work sites –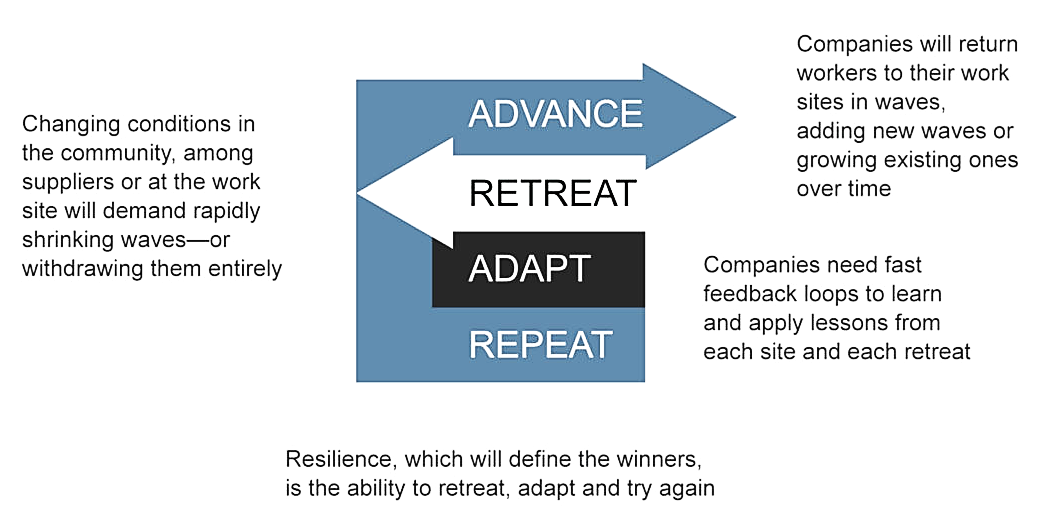 9. Embrace the cultural and behavioral shifts that COVID-19 introduced – While online sales and services were already growing rapidly in many countries, the pandemic has catapulted online retail into overdrive. Something other than food and home remedies, interest for administrations, going from instructional classes and amusement have all expanded. Organizations have a valuable opportunity to capitalize on the significant behavioral and social movements of the previous barely any weeks with the goal that they convey across into a non-COVID world. This may mean creating Omni-channel plans of action that join advanced and up close and personal contributions.
10. Establish credibility with your clients – Differentiate yourself from your competitors in some way, shape or form. Sharpen that advantage. Consider what that promoting message will be, and how you need to begin setting up correspondence with your customers. Many operators as of now have that arrangement set up and communicated constantly.
Conclusion – What separates the winners from the losers is how well they capture, process, disseminate and leverage their unique knowledge. Reinforce your insight the executive's framework or, in the event that you don't have one, create it. What does that look like to an operator that's in a state about to open up? As you begin to identify a path to profitability, it might begin by planning two to four weeks at a time, then looking at the next four weeks, quarter or six months. Understand the trigger points in which you need to either retreat or begin to bring more people back and grow. The economy is not going to open up as fast for us as it will for some industries, yet we should be ready for that and comprehend that the customers' needs will be unique in relation to what they were before this begun.
References
Dr. Senthil Kumar, is an Associate Professor of Finance and Business Management in Skyline University Nigeria. He has a PhD. in Business Management from Bharathiar University, India.
You can join the conversation on Facebook @SkylineUniversityNG and on Twitter @SkylineUNigeria